Electric Pallet Trucks
Pallet trucks provide reliable material handling solutions that ensure long-lasting value and versatility that help boost your operators' productivity.
Consult a Noble Expert
A Series Pallet Truck Mini Range
Flexible applications with rated capacities of up to 1,500 kg.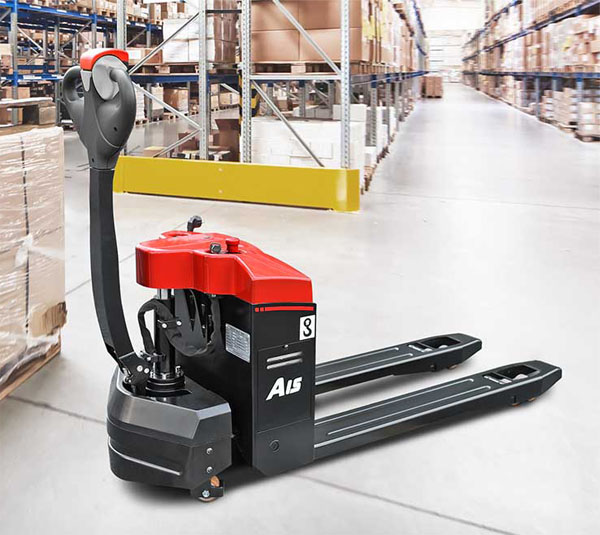 Products Specifications
Model: CBD15-A2MC1
Operator Type: Pedestrian
Load Capacity: 1,500 kg
Lift Height: 0 – 120 mm
Drive Type: Lead Acid Battery
Inquire Now
Apperance
Improved design streams and made fully ergonomic in consideration of the latest trends in equipment design.
Improve Performance
All key parts of the pallet truck (motor, brakes, tiller, switches, connectors, and battery) contribute to its stellar performance.
Safety
Equipped with a three-braking system to ensure safe operations.
A Series Pallet Truck Basic Range
The A Series Basic Range is equipped with an AC traveling motor to provide users with excellent acceleration for increased work efficiency.

Products Specifications
Model: CBD20-AEC1S
Operator Type: Standing
Load Capacity: 2000/4409
Lift Height: 125/4.9
Drive Type: Lead Acid Battery
Inquire Now

Products Specifications
Model: CBD15-A2MC1
Operator Type: Pedestrian
Load Capacity: 2000/4409
Lift Height: 125/4.9
Drive Type: Lead Acid Battery
Inquire Now
Design
Thanks to its newly improved and compact design, the A-series Basic Range pallet truck is more robust and powerful to meet your demanding applications. Whether you're driving around for product replenishment or pulling heavy applications, this pallet truck has the strength to deal with transport tasks along short distances.
Improve Performance
The AC traveling motor equipped in this machine provides users with accurate and stable control, enabling better work efficiencies. Applied CANBUS electronic communications system allows the different parts of the vehicle to cooperate wholly with each other, from the engine
Safety
This electric pallet truck has easy-to-use controls for safe operations. Hangcha has optimized its design to offer users with good visibility and easy calibration of the machine. The hydraulic power unit used is purposely provided to lower noise and vibrations, resulting in smoother lifting and lowering of pallets.
A Series Pallet Truck Hi Range
The AC traveling motor system of the A Series Hi Range pallet truck guarantees excellent acceleration, with maximum travel speed reaching up to 9.5 km/h and lifting capacity of weights up between 2000 to 3000 kg.
High Performing
The new motor installed allows for excellent speeds, good gradeability, and little to no maintenance requirements. Reaches maximum travel speeds of 9.5 km/h for higher product-transport efficiencies.
Reliable
Protection of electric systems in the form of water-proof plugs and connectors, floating suspension systems, quality hydraulic power units, and punch-formed forks account for the machine's long life and reliable operations.
Safety
Regenerative brake and slope anti-slide function guarantees safety of the operator. Emergency button placed on the tiller head effectively keeps the driver away from harm. The braking on this equipment automatically reduces turning speed when steering.
A Series Rider Pallet Truck
Hangcha brings to users the new A-Series Rider Pallet truck. It combines excellent maneuverability, making it the perfect tool for product-moving performances. The steel chassis provides the machine a larger load capability and longevity.
Maximize Your Work Efficiencies in the Warehouse
The A-Series Rider Pallet Truck is the ideal tool for heavy-duty and long-distance transports, no matter the route or application. Hangcha has developed better machination initiatives to ensure smooth and precise operation on ramps and pallet transports respectively.
Comes in the Lithium-Ion Battery Option!
Fewer battery changes

Works at low-temperature applications

Fast-charging (as quick as 2 hours)

Capacity retention greater than 80%

Maintenance-free batteries
T Series Premium Range Pallet Truck
The new Hangcha T-Series Premium Range pallet truck is armed with advanced technologies ideal for transporting products across short distances. Available in two types: pedestrian and standing.
High Productivity
The compacted chassis and unique steering design of the T-series premium pallet truck makes it easy for operators to travel along tight spaces.
Ergonomics
The tiller head is designed with clear operating visibility in mind. Dual lifting/lowering, creep speed, and the conductor band buttons are placed allowing user operation by either hand.
Reliability
Newly incorporated butterfly drive controller and durable frame construction brings the truck high rigidity and longer working life.